07/19/2019
New World Natural taps new CEO
New World Natural, a brand consisting of micro brands and niche companies in the beauty and personal care segment, announced the appointment of a new chief executive officer.
Shannon Curtin, the former SVP/GM of North America for Coty's consumer division, has been appointed to the role, effective July 17.
"Shannon's vast beauty experience which combines both retail and consumer goods makes her especially well-positioned to deliver our growth objectives. Shannon's collaborative leadership style, industry expertise and personal passion for the natural category will ensure our brand portfolio continues to meet the consumers evolving needs," New World Natural chairman, Ed Ryan said.
[caption id="attachment_595828" align="alignleft" width="300"]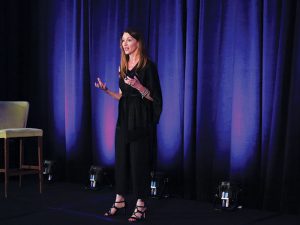 Shannon Curtin at a
DSN
event in 2018[/caption]
Curtin first began her career over 25 years ago with Walmart, where she served in various beauty merchandising positions throughout her tenure with the company. She then moved onto serve as the GVP/GMM of beauty and personal care for Walgreens for six years.
As the SVP/GM of North America for Coty's consumer division, Curtin's responsibilities includes the mass fragrance portfolio, as well as the relaunch of CoverGirl, Sally Hansen, Rimmel and Clairol across 60,000 retail locations in the United States, Canada and Puerto Rico.
Most recently, Curtin launched her consulting and creative practice — The Beauty Boutique Group, which specializes in the strategic development of independent beauty and personal care brands.
"New World Natural Brands is a company that supports the growth of independent brands and their founders. We are committed to advancing sustainable business and innovation practices that will provide ongoing goodwill for humanity and Mother Earth. It is an honor to lead the talented NWNB team as we embark on our global ambitions," Curtin said.