State of the Industry: Pharmacy navigates choppy waters
Get great content like this right in your inbox.
Subscribe
These should be the best of times for pharmacists. With a growing aging population acquiring complex chronic diseases and a shortage of primary care physicians, pharmacists are in the best position to provide an array of clinical services, such as medication therapy management.
Moreover, a growing number of states are granting pharmacists the authority to perform more clinical services, and even prescribe certain medications. Pharmacists are in a position to seize more opportunities to practice at the top of their license.
Yet, low reimbursement rates for products, DIR fees, increased competition, escalating drug costs and employment issues are threatening to hamstring the progress pharmacists have advocated for and accrued over the past few decades.
In a Medium post published in May, National Association of Chain Drug Stores president and CEO Steve Anderson said that DIR fees — in which payers claw back a reimbursement paid to a pharmacy for Medicare prescriptions, often months after the drug was dispensed — can "result in below-cost reimbursement to pharmacies" and potentially lead to higher patient cost sharing, "because cost sharing is supposed to be based on a drug's cost, which is artificially inflated when claw backs are not figured in."
As a result, pharmacy advocacy groups have been focused on reforming DIR fees, but the Centers for Medicare and Medicaid Services omitted DIR fee reform from its Final Rule relating to Medicare Advantage and Part D plans. This omission came even though CMS had acknowledged that DIR fees on pharmacies participating in Part D grew by 45,000% between 2010 and 2017.
More bad news for pharmacists came on the employment front in July as Walmart announced that it was cutting the number of its U.S. pharmacy employees by roughly 3%. These cuts were reported to include as much as 40% of senior pharmacy staff, as well as some new hires and part-time associates.
Edina, Minn.-based grocer Lunds & Byerlys also announced in July that it was closing 14 of its Twin Cities pharmacy locations, after the company said it no longer could absorb "significant losses" related to the pharmacy counter, leaving 27 pharmacy managers and staff pharmacists unemployed.
Lucinda Maine, executive vice president and CEO of the American Association of Colleges of Pharmacy, said reimbursement issues are contributing to the uncertain job market for pharmacists.
"We are beginning to see the layoffs and the constraint on staffing and the number of hours that is all attributable to the bizarre contracting and rebates and DIR fees," she said. "They are killing community pharmacy practice. Congress and the president sidestepped it at the peril of patient access, at a time when we should be making sure that they have unlimited access to the knowledge and skills of pharmacists."
Goar Alvarez, assistant dean of pharmacy services at Nova Southeastern University College of Pharmacy in Fort Lauderdale, Fla., and who also oversees the campus' pharmacy, said, "DIR fees represent tens and hundreds of thousands of dollars that are being pulled away retroactively from pharmacy. Obviously, it has an effect on the bottom line for these pharmacies."
National Community Pharmacists Association CEO Doug Hoey said that roughly 5% of retail pharmacies have closed in the last few years. "Pharmacy DIR fees have gotten completely out of hand." He also said that employment cuts are partially a reflection of efforts to cut operational costs as revenue is taking a hit from PBM contracts and generics deflation.
Independent pharmacists also are concerned about the current reimbursement landscape, according to Brian Nightengale, senior vice president of community and specialty pharmacy at AmerisourceBergen and president of Good Neighbor Pharmacy, the company's network of more than 5,000 independent community pharmacies.
Nightengale said pharmacy, especially community pharmacy, is facing the challenges of shrinking and uncertain reimbursement for the dispensing of medications. He argued that a different reimbursement model is crucial, and all parties realize that the current model is not sustainable.
"PBMs compete to deliver lower per member per month drug costs for health plans. Unfortunately, this is becoming more and more of a challenge as it has gotten to the point where pharmacies are losing money on an increasingly greater percentage of prescriptions they fill for patients," Nightengale said. "The pharmacy, on the prescription side of the business, doesn't really have any room in its margins to take risks for outcomes or value-based models."
Another complication in addressing reimbursement has much to do with "closed networks," according to Alvarez, who said they are problematic for pharmacies that want to participate because PBMs work with one entity and they reduce the fees to that entity in exchange for more patients or increased volume.
"But, the fees are so low that a company now has to figure out a way to dispense these medications at this lower cost," he said. "They start to reduce their staff to be able to meet that new metric, or new reimbursement model."
Opportunities for MTM, Collaboration

Among the potential ways to offset decreased reimbursement is legislation that reimburses pharmacists fairly for managing a patient's medication regimen, as well as collaborating with other healthcare providers, Alvarez said.
To be sure, pharmacists' involvement in MTM helps to ensure patients' adherence and their health, but it also reduces healthcare costs. Maine cited statistics from a model created by her colleagues 25 years ago that showed that for every dollar spent purchasing drugs, there is a dollar of unintended consequences of not using drugs in the best manner possible.
"Twenty-five years ago that was $77 billion dollars, and the number is now reprojected to be more than $500 billion. If pharmacists were doing exactly what we are training our students to do, we could save about half of that money for the healthcare system," she said. "Our challenge is to keep focused on the fact that we haven't yet achieved our mission-critical function. There's still too much medication misuse that is part of the healthcare landscape."
Donna Ryan, immediate past president of the American Association of Diabetes Educators and regional director of population health at Pensacola, Fla.-based Ascension Florida, concurred that pharmacists play a critical role in reducing healthcare costs, especially when it comes to hospital readmissions due in part to their proximity to patients, frequency of patient visits and how highly patients trust pharmacists.
"That is a trifecta of opportunity for pharmacies to impact the health outcomes of people and communities," Ryan said. "Pharmacists can reduce healthcare costs when people are managing their conditions well and safely. Data shows that reductions in hospital readmissions are positively impacted when people have access to a pharmacy and a pharmacist."
Despite the daunting challenges, experts are optimistic about the future of pharmacy.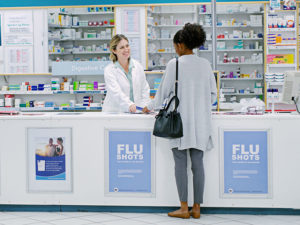 Indeed, many pharmacy experts and those in academia agree that collaborative practice agreements between pharmacists and physicians and a team approach will expand, enabling pharmacists to utilize their expertise and retailers to maximize pharmacy going forward.
"Pharmacists are going to be integrated to help manage and co-manage complex chronically ill patients," AACP's Maine said. "We use a lot of medicines on complex chronically ill patients, which is why the practice mode