11/16/2018
Checking out the future: Retailers bring tech to bear on checkout
Amazon has raised the bar on self-checkout with its fledgling Amazon Go chain of cashier-less stores, where customers literally grab and go, thanks to a network of sophisticated cameras and sensors.
But such so-called "smart checkout" systems — which reportedly cost $1 million or more per store to install — likely are not to be a viable solution for most retailers anytime soon.
Instead, more and more food and drug retailers are exploring alternate self-checkout technologies that leverage smartphones, often in tandem with self-scanning terminals. These systems hold the promise of helping reduce store labor costs, while at the same time adding convenience for consumers. They also have the potential to enhance the in-store experience through real-time retailer-customer connectivity and personalization.
Several food and drug retailers have had up-and-down relationships with stationary self-checkout terminals. For example, Woonsocket, R.I.-based CVS Health has eliminated self-checkout from several CVS Pharmacy stores, according to reports, but also has added them in others. Supermarket operators Albertsons, based in Boise, Idaho, and Big Y, based in Springfield, Mass., both announced cutbacks on their use several years ago. Issaquah, Wash.-based Costco in 2013 also eliminated self-checkout in favor of manned cashiers, although reports said the retailer has been testing a new iteration of self-checkout in some locations.
However, the development of mobile apps that allow customers to scan using their smartphone could breathe new life into the self-checkout POS terminal.
Grand Rapids, Mich.-based supercenter operator Meijer, for example, encourages the use of self-scan kiosks in conjunction with its Shop & Scan app, which it has been rolling out throughout this year. The retailer requires that customers pay for their order at the self-checkout kiosks after they have scanned their merchandise.
"Shop & Scan will make the Meijer experience dramatically faster and more convenient for our customers," said Terry Ledbetter, Meijer's chief information officer, in a statement. "This technology joins our curbside pickup and home delivery programs to provide yet another option for Meijer customers to personalize their shopping experience."
More than 12,000 customers downloaded the self-scanning app in the first few months of testing at seven locations, Meijer said.
Advantages for retailers
James Moar, an analyst at Juniper Research, said mobile app-based self-scanning offers some advantages for retailers. A recent report from Juniper Research forecasted that retail spending at frictionless payment stores, such as Amazon Go, will grow from an estimated $253 million in 2018 to more than $45 billion by 2023. Juniper expects most of these transactions to be in convenience and general stores.
The report, "Future In-Store Retail Technologies: Adoption, Implementation & Strategy 2018-2023," predicted that self-
scanning apps, meanwhile, will be used by more than 32 million shoppers by 2023, driving higher engagement.
"The advantage of these [self-scanning apps] is that they will require relatively little in the way of set-up costs and maintenance when compared with more fully-fledged smart checkout technologies, while providing a degree of the labor-saving and time-saving benefits for the retailer and consumer," he said.
Cincinnati-based Kroger has reported some success with its mobile app-based Scan, Bag, Go self-checkout system, and said it is helping drive store performance. "Store productivity will improve with the scheduled launch of Scan, Bag, Go in 400 new locations this year," said Mike Schlotman, executive vice president and CFO at Kroger, during the company's fourth-quarter earnings call with analysts in early 2018.
Kroger's mobile app-based system allows customers to either pay within the app or at a self-checkout kiosk, if they prefer.
Other food and drug retailers that have recently begun testing self-scanning apps include San Antonio-based H-E-B, which earlier this year launched a two-store test of a mobile app-based self-scanning system, called H-E-B Go. "H-E-B is continuously testing new and innovative ways to serve our customers, and H-E-B Go is one of many programs to enhance service," a spokesperson for the chain told MySanAntonio.com.
In addition, New York's Fairway supermarket chain this year began rolling out a mobile app-based self-scanning system in partnership with technology provider FutureProof Retail, also based in New York.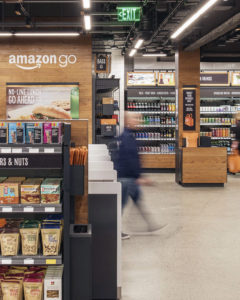 William Hogben, CEO of FutureProof Retail, pointed out that mobile phones will likely be at the heart of all future self-
checkout systems, even smart checkout systems such as those installed at Amazon Go. "The future of checkout starts with mobile, because the phone is what brings the strategic value," he said. "It's not about getting your customers out faster. It's not about reducing staffing costs. Really, it's a fight for retailers to create closer connections to their customers."
Hogben said implementing app-based self-scanning can help retailers lay the groundwork for future iterations of the systems, which could eventually incorporate more vision-based technology akin to that used at Amazon Go.
"We're doing mobile self-scanning because that gives you the training dataset to transition to a vision-based, or any other base approach in the future," Hogben said. "But right now, it gives retailers that strategic asset of the install. Once the customer installs your app, they'll just keep updating it, and as long as they're happy with you, you've got basically a lifetime connection with them right in their pocket."
Approaching checkout holistically
Donna Stevens, director of store-transformation solution management at POS terminal supplier NCR, said retailers are increasingly looking at making their checkout systems part of a holistic solution that focuses on enhancing customer connectivity and the in-store experience.
"We believe retailers will move away from investing in POS as an individual solution — if they haven't done so already," she said. "Retailers are seeing the value in taking a platform approach, not solving one business challenge at a time."
Mobile app-based self-checkout lends itself to this multipronged approach, Stevens said. "That can grow into other value-add services, such as the ability to check what's on sale, review loyalty status, place a to-go order, create a shopping list, post feedback — all in the same place," she said.
"Retailers will look at their entire store infrastructure, and look for ways to make it more flexible and more agile to enable new apps, new terminals and new features to be added to what they have today," Stevens said. "So, POS will be considered more of a platform of service versus a point of sale — inclusive of the ability to offer personalized service and promotions, inclusive of cross-channel purchases, inclusive of flexible payment options, etc."
Drug Stores are a prime format
Some analysts said drug stores' status as quick-trip, small-basket destinations could make them prime candidates for the use of app-based checkout technologies.
"Over the last few years, there has been a seismic shift in shoppers' ability to get the goods they want in an extremely convenient and quick way," said Stewart Samuel, program director at IGD Services Canada. "Retailers must look at all aspects of the shopping trip from the customer perspective to create a frictionless shopping experience. This is particularly important for drug stores that cater to many of those convenience-based missions."