Lice remedies to ease the itch away
Get great content like this right in your inbox.
Subscribe
No matter what age or time — lice can always strike, which could make finding an easy solution for the itch hard to come by. That's why Drug Store News is highlighting several lice remedies that are sure to help anyone ease that annoying itch.
Nix wants to wash lice away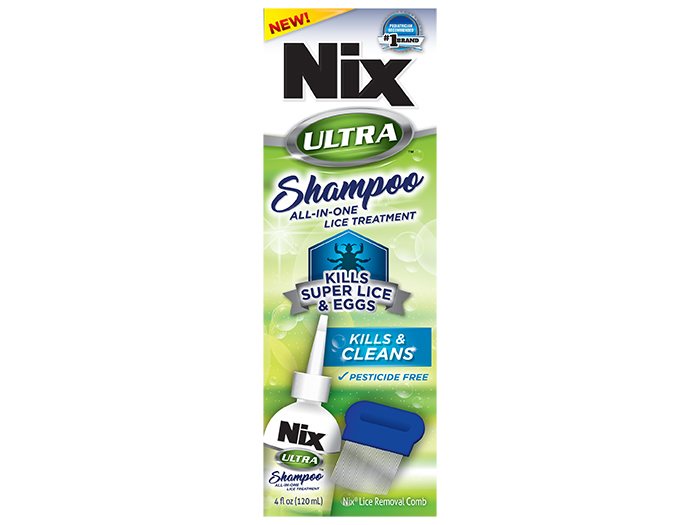 Prestige Consumer Healthcare's Nix brand is expanding its pesticide-free offerings with Nix Ultra Shampoo. The product uses mineral oil to clean hair, while also killing lice and eggs, including super lice.
"In a recent laboratory study, Nix Ultra was proven more effective than the leading prescription product at killing lice," said Joseph Juliano, vice president of innovation in Canada and consumer insights at Prestige.
"This year, we are excited to add to the line with the launch of Nix Ultra Shampoo, which kills super lice and eggs, and cleans hair."
The shampoo, free of parabens, phthalates, colorants and dyes includes the Nix Lice Removal Comb to remove remaining lice and eggs following the shampoo process.
Rid Max emphasizes ease, convenience
When it comes to lice, few families want to make multiple trips to the store for various items they might forget on an initial pass. In an effort to make the process easier, Bayer's Rid brand offers the Rid Max Complete Lice Removal Kit.
The kit includes the Rid Max Conditioning Solution, a pesticide-free treatment that also conditions hair; the Ridvantage lice comb, which features a diamond-tine design; and the Home Lice, Bedbug & Dust Mite Spray for non-washable items that include mattresses, furniture and car interiors.
The kit also features lice removal instructions in English and Spanish.
Vamousse aims to keep the house lice-free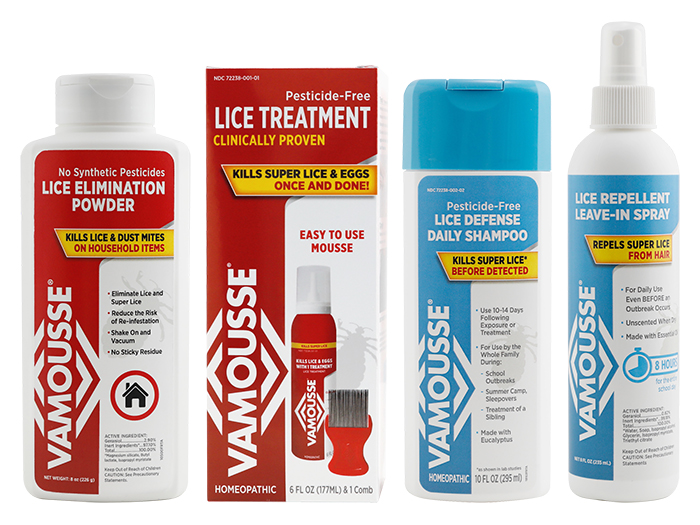 Once the lice in a person's scalp is taken care of, consumers still want to exercise caution on anything that came in contact with lice that may not easily be washed. That's where Vamousse Lice Elimination Powder comes in. The product is meant to be shaken on areas that might have come in contact with an affected scalp, including furniture and mattresses, then vacuumed up.
The non-pesticide product does not leave a sticky residue and features a clean scent once used. It offers an alternative to more common sprays that use permethrin, which many consumers are wary of.
"What we wanted to offer parents was a solution that, if you wanted to treat your house, it's something that has ingredients that you can feel good about using around your children and your pets."
Lice-Nil keeps it simple
Lice-Nil, from Indian pest control giant Sujanil, is looking to bring its pesticide-free, oil-based lice treatment to more stores. The product uses three main ingredients — neem oil, coconut oil and tea tree oil. The neem oil is meant to help kill lice, while the coconut oil is meant to help suffocate them, with the solution also focused on eliminating nits.
"Lice-Nil is an all-natural preparation — it's oil. And that really is the significant point of difference to other products that are currently on the market — either permethrin- or sodium chloride-based products," Lice-Nil spokesperson Curt Behrens said. "I think it's important to bring good medicine to the market — and we've got it."
Lice-Nil, which is available in a 4-oz. bottle, currently retails for $13.94 on Walmart.com. The company is planning to launch a shampoo later this year.