All in One: Rite Aid builds out pharmacy, front end to become health-and-wellness resource
Get great content like this right in your inbox.
Subscribe
If it can be said that there is a guiding maxim in the retail business, it would be "know thy customer and know thyself" — two goals that Rite Aid has made a central part of its go-forward, stand-alone strategy in its new fiscal year, which began in March.
John Standley, the company's CEO, said that coming out of a challenging few years, during which its near acquisition by Walgreens turned into the sale of 1,932 stores and its shareholders did not support a combination with Albertsons, Rite Aid has taken an even closer look at who its best customers are and how the chain can better serve them.
It's an attitude that goes right down the corporate line at the Camp Hill, Pa.-based drug store chain. "Understanding our customers and their specific needs enables us to do a much better job of reaching them from an omnichannel perspective, while continuously evolving our offering to meet their needs," said Bill Renz, senior vice president of category management, who has been leading the marketing team in advance of Erik Keptner joining the team as senior vice president and chief marketing and merchandising officer later in June. "These are customers with chronic or polychronic health conditions who are willing to speak with our pharmacists as trusted advisors during their healthcare journeys."
As part of the company's fourth-quarter earnings call, COO Bryan Everett highlighted Rite Aid's "one-store, one-team" culture — something that is driving Rite Aid's efforts to better meet the needs of its customers. This means that as it sets out on what the Rite Aid team calls its "
Path to the Future
," Rite Aid is focused on enhancing its offerings throughout the store — from the pharmacy counter to the front end.
To get there, Rite Aid will invest in infrastructure to enable the company's more than 6,300 pharmacists to spend more time providing clinical services to patients; revamp its approach to such key front-end categories as health, beauty, consumables and vitamins; and ensure that it can deliver on its shoppers' needs wherever they are — whether that's in the store, online or via mobile.
Building a Connection

Walking into Rite Aid's new Innovation Center, which was developed in the company's Wellness Store format to enable Rite Aid to be first to market with new items and programs, Renz noted that from the outset of the shopper's journey, a hardwood path cuts its way through the store directly to the pharmacy. The store's format reflects the importance that the company is placing on the pharmacist and the customer relationships they are able to create with patients.
"Pharmacists are the key to the relationships we have with our customers, because customers, in many cases, trust their pharmacists more than their primary care providers," Everett said.
Indeed, in Gallup's 2019 Poll on the public's opinion of the ethics of various professions, only 5% of respondents said they had a low or very low opinion of pharmacists' honesty and ethical standards — second in that regard only to nurses. It's something Rite Aid executive vice president of pharmacy and retail operations Jocelyn Konrad said the company understands as it looks to chart a business model that can withstand increasing reimbursement pressures and growing scrutiny on patient health outcomes.
"The purpose of a pharmacist has always been at the core of our decisions," Konrad said. "As a pharmacist, I don't think the purpose of a pharmacist is to put medication in a bottle, but it is to take care of patients — and the value proposition of taking care of patients is at the core of what we offer."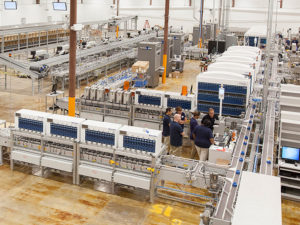 One such decision is Rite Aid's investment in the company's central fill capabilities, which are meant to empower pharmacists to take care of patients, in part, by finding an efficient way to handle increasing prescription volume. Konrad said that roughly 700 stores have patients' maintenance prescriptions filled at the company's central fill facility, removing that task from in-store pharmacists. That number is expected to increase to 1,100 stores during fiscal year 2020. This combined with such efforts as medication synchronization and automatic courtesy refills, means pharmacists are able to focus more on clinical services, including immunizations, which hit a record number for the company during fiscal year 2019.
To make it easier to identify when patients need an intervention, Rite Aid developed and introduced Rite Care, a state-of-the-art tool that enables pharmacists to see a broader picture of a patient's health records when filling a medication, and it provides real-time alerts for clinical services patients may need. "Having this information at our pharmacist's fingertips as they fill prescriptions is critical, and we've seen success making these important interventions to deliver clinical services patients need," Konrad said. "I think our patients appreciate the fact that we're looking at their overall health, not just that one prescription that they're coming in for."
These interventions can be particularly meaningful for patients who frequent the pharmacy — Standley pointed out that these tend to be patients with chronic conditions who drive a large portion of the pharmacy business. Rite Aid focuses on helping them manage their conditions and improve their health through three areas of emphasis — adherence, immunizations and medication therapy management, or AIM — that can both improve patient health outcomes and offer the pharmacy an opportunity for reimbursement.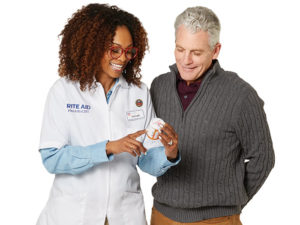 "Rite Aid's pharmacists have embraced AIM and they understand it means that there's a higher level of care that we can provide," Konrad said. "When looking at an attributed patient population within a pharmacy, only about 10% of patients require this higher level of care, so when we are 'AIMing higher,' it's really focused on those patients and getting our pharmacists to recognize that the time they spend with that part of the population is extremely valuable."
That's not to say pharmacists are not spending time with other patients. "Rite Aid's pharmacists deal with caregivers who also will eventually be in that population," Konrad said. "It is just as important for us to build the relationship with these people, knowing that eventually they will be our best customer."
Front-End Center

The same approach that informs Rite Aid's pharmacy strategy is helping to reshape its front end — namely, putting the customer first and knowing what offerings will resonate with them. "We're looking at how the consumer shops and are using this consumer-
centric approach to determine how we build our merchandising strategy," Renz said.
As a result, the company is focusing on both assortment and shopability of key categories like health, beauty, consumables and vitamins. "Where we're really going to win with customers is in those four areas. We have to connect with customers in those spaces," Renz said.
A key element of this push has been building out its own-brand offerings, from reviving its Rite Aid Pharmacy OTC brand to focusing on ingredients in other categories.
"We want to capitalize on the Rite Aid name and allow our customers to take advantage of the great value these products offer in terms of both quality and price," Renz said. "We're working very hard to provide better-for-you ingredients in our consumables offering, as well as cleaning up ingredients in our beauty and