The Rite Aid Foundation focuses on being a caring neighbor in its markets
Get great content like this right in your inbox.
Subscribe
One of Rite Aid's core values is to be a caring neighbor — one that gives back to the communities and cities it serves in meaningful ways. The Rite Aid Foundation was established in 2001 to help deliver on that core value. Since its inception, the foundation has awarded more than $63 million to nonprofit organizations.
To make the greatest impact possible, the Rite Aid Foundation focuses on three core areas for charitable giving within those communities:


1. Children's health and well-being


2. Special community health-and-wellness needs


3. Rite Aid's own community of associates during times of special need


To do even more for the communities we serve, the Rite Aid Foundation developed the KidCents program, a charitable giving program dedicated to improving the health and well-being of children in the areas Rite Aid services. Members of Rite Aid's loyalty program, wellness+ rewards, can round up their in-store and online purchases to the nearest dollar and donate their change to KidCents.
The KidCents program annually supports a select group of more than 400 local nonprofit, kid-focused organizations committed to improving the health and well-being of children. Additionally, KidCents supports national kid-focused charities, including the Fred Rogers Company, Children's Miracle Network Hospitals and Folds of Honor.
The Rite Aid Foundation has developed and launched several innovative programs to deliver on its promise of being a caring neighbor.
As the nation faces an unprecedented crisis with prescription drugs, the Rite Aid Foundation has implemented several initiatives to address the epidemic.
In 2017, the Rite Aid Foundation launched the KidCents Safe Medication Disposal program to provide law enforcement agencies in communities served by Rite Aid with free medication disposal units for individuals to safely dispose of expired or unwanted prescription and over-the-counter medications. Over 414 law enforcement agencies in 18 states have made 458 units available to customers and communities.
To further advance its efforts, the Rite Aid Foundation partnered with EverFi, the nation's leading education technology innovator, to roll out the Prescription Drug Safety program, an innovative digital course about prescription drug abuse prevention for high school students. The foundation has made a $1.7 million commitment to the program. To date, the digital course has been activated in nearly 400 high schools in California, Ohio, Oregon, Michigan, Pennsylvania and Washington, reaching nearly 28,000 students.
Education is critical to the development and overall well-being of children, and the Rite Aid Foundation has been a long-standing partner of Folds of Honor, a nonprofit organization that provides educational scholarships to children of military service members who have been killed or seriously wounded while serving our country. Since 2015, the foundation has awarded more than $13 million to the organization to fund scholarships for children of military heroes.
As part of its ongoing efforts to address critical children's health and well-being issues, the Rite Aid Foundation launched the KidCents Regional Grant Program in 2018.
The program, which provides grants of $15,000 to $30,000, significantly expands the reach of KidCents by funding specific out-of-school time programs focused on children's nutrition, physical fitness and academic success.
In the inaugural cycle, 180 grants totaling more than $4 million were awarded. As a result of the grants, close to a quarter of a million children now have access to ground-breaking programs that will improve their health and well-being and promote academic growth.
Funded initiatives include a wide range of offerings, including arts education and conflict resolution programs, mentoring programs for at-risk youth, academic support for teenagers battling cancer, and food assistance and nutrition education for children in need.
---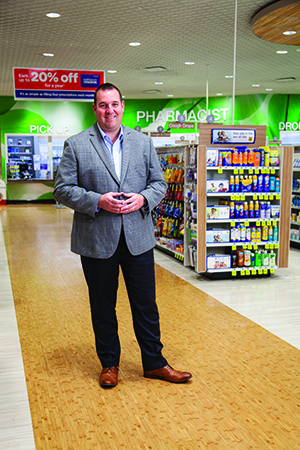 Bryan Everett is COO of Rite Aid and president of the Rite Aid Foundation.