Diabetes innovations enable self-care, patient engagement
Get great content like this right in your inbox.
Subscribe
Diabetes care is providing a gateway for better interaction between pharmacists and patients.
At least that is what many industry officials have said, noting that people with diabetes visit the retail pharmacy not only to have their prescriptions filled, but also to learn more about blood sugar levels, A1C testing and self-care. Pharmacists also have to face the challenges of keeping costs down, not just for the retailer, but for the patients as well.
"The pharmacist is the front line," said Casey Pflieger, marketing director at Owen Mumford North America, which makes the Unifine brand of pen needles. "The more they can repeat best practices, the more likely it is that the patient will be compliant. Patient compliance is critical in having better patient outcomes, not just for the patient, but for the overall healthcare system."
Manufacturers said many of the latest innovations can help. The product launches help make blood glucose testing easier, more comfortable and more affordable. As a result, patients can be encouraged to improve their self-care, and also reduce certain costs.
"The biggest game changer in diabetes management is the elimination of finger pricks," Rick Doubleday, chief commercial officer at San Diego-based Dexcom, said. "Continuous glucose monitoring has gotten so accurate, so trustworthy, that patients can make treatment decisions based on the information it provides." The company's latest iteration of its product, the Dexcom G6, uses a wearable band and an app, so that the iOS user can ask Siri what his or her glucose level is. The system also sends alerts, and the patient can share readings with up to 10 people.
The opportunity for pharmacy staff members, Doubleday said, is that CGM can help them engage with patients. "There is still not broad awareness of CGM for people using insulin, and the pharmacist is a trusted member of their care team," he said. "Pharmacists who share this info frequently are moving their customers to this newer, life-changing technology."
People with diabetes have better outcomes when they test as directed. Tampa, Fla.-based Smart Meter conducted a pilot study that tested the benefits of remote monitoring of real-time blood glucose data using the company's iGlucose Cellular Diabetes Care Solution. In the three-month study, 60 participants in the Washington, D.C., area agreed to have their blood glucose level monitored remotely with the interactive iGlucose system. Among the results: 89% of participants said testing was less of a hassle with iGlucose, and there was a 44% improvement in the frequency of testing.
There also were improvements related to productivity, Brahim Zabeli, vice president of sales at Smart Meter, said. By using a web portal, the patient did not have to see the provider face to face very often, which saved time and money for both. "Greater involvement in the patient's health care can improve patient results and hopefully, in the process, buy greater loyalty to the pharmacy that they happen to be working with," he said.
Health care is moving in this direction, Zabeli said. "There are more than a few pharmacy chains that hire pharmacists not to fill prescriptions, but to work on phones, do medication management, and, when they see an issue, they can call the patient or call the healthcare provider."
Needle innovations

Among the most important innovations in diabetes care are devices that make it easier and less painful for people to check their blood sugar levels. "When a lancing device does not hurt, people will test more often, improving their health and potentially lowering their A1C," said Christopher Jacobs, founder of the company Genteel in West Linn, Ore., and inventor of the Genteel device. Genteel is a vacuum blood draw device that can be used on fingers and other body parts. The product uses a vacuum and precise depth control to painlessly get the right amount of blood every time without having to re-poke or squeeze the test site. Genteel only reaches the blood capillaries just under the skin surface, but not the pain nerves, which are deeper, Jacobs said.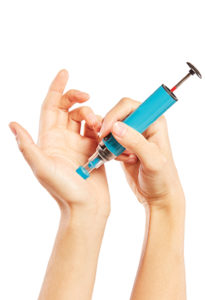 "Genteel is the next innovative product in the industry without the need for high-tech electronics or something permanently attached to a patient's arm," Jacobs said. "For the first time, those with diabetes can painlessly test their blood sugar not just from fingers, but anywhere on their body they choose without anxiety or pain." He also said the device is the world's only stand-alone FDA-cleared lancing device for alternate site testing. It also won a DSN/ECRM Buyers' Choice Award at ECRM in May. Genteel has been available online for five years, and a new model of Genteel soon will be available in retail stores.
The need for safe disposal of the needles, or sharps, is another factor that is driving innovation in diabetes care. There has been some legislation related to safe needle disposal. In 2018, California Governor Jerry Brown signed into law SB 212, which establishes a comprehensive take-back system for sharps and medications. "California is leading the charge," Holly Hartshorn, director of marketing at Excelsior, Minn.-based UltiMed, said. "It's starting to pick up traction."
Retailers and patients typically have to buy special containers for the discarded needles, which already adds to high costs. According to the Centers for Disease Control and Prevention's 2017 National Diabetes Statistics Report, the average medical expenditures for people with diagnosed diabetes were about $13,700 per year. To help alleviate some of this, UltiMed offers the UltiGuard Safe Pack, which contains 100 premium pen needles or syringes and also acts as a sharps container. Once a needle has been used, the person can pop it in the top, drop and roll it safely out the way. "It's super easy and super convenient all in one," Hartshorn said.
The container helps prevent used needles from entering the waste stream, helps keep people safe from accidental needle sticks, and helps pharmacies save time and money. "We're finding pharmacists are asked to do more and more with less," Hartshorn said. "With this product, we hope to make it easy for them to do all those additional things they are being asked to do."
UltiMed recently launched a campaign to educate pharmacists and consumers about the UltiGuard Safe Pack, including a mini site and video that viewers can watch online and request a free sample.
Owen Mumford also is innovating in the needle space. The company's Unifine Pentips Plus are needles that also have a built-in pen needle remover to make using them safer and more convenient. If patients don't have immediate access to a sharps container, the pen needle has a removal chamber built into its casing that's meant to hold the used needle until it can be disposed of safely.
"Diabetes patients have to carry a lot of tools in their kit, including pen needles. Once the needle is used, it has to be properly disposed of in a sharps container. But many patients, especially those on the go, repeatedly use the same needle, which poses additional health risks," Owen Mumford's Pflieger said. "By incorporating a built-in removal chamber on one of the sides of the outer casing, this device gives patients accessibility and convenience — and the freedom of not having to carry a sharps container when they are on the go."
Beyond testing and injecting

An effective barrier bandage also helps protect the patient and the caregiver. Bowling Green, Ky.-based Injection Safety Industries manufactures Inject-Safe Barrier Bandages, which self-seal to help contain bleeding after an injection. The bandage is placed on the patient's skin before the injection, and the healthcare provider injects a needle throug