Making the grade: Helping pharmacy techs get into pharmacy school
Every year, pharmacy technicians join the ranks of students vying for a seat in a pharmacy school. Many of these technicians have years of pharmacy experience, are highly skilled and are great with patients. Their pharmacists believe they would make great pharmacists and write glowing letters of recommendations for them. However, they become shocked or dismayed when they find out their technician didn't get admitted.
As the associate dean of student affairs for the past five years, I can tell you the No. 1 reason why your technicians do not get admitted — and, in fact, the reason they most likely did not even get offered an interview — their GPA.
I can't tell you how many applications from technicians I have reviewed over the years with a GPA of less than 2.5. I even have had technicians who apply with a GPA less than 2.0. When they get their denial letter, their response always is similar.
One, they really, really, really want to be a pharmacist. Two, they know their grades aren't that good, but that isn't an accurate reflection of their abilities. And three, everyone at work says what great pharmacists they would be.
I have no doubt that if you have had a technician ask you for a letter of recommendation, rarely have you asked about his or her GPA. And if you did, the technician's answer was likely a nonanswer like "I'm doing pretty good."
I think most pharmacy schools would rather have a veteran pharmacy tech than someone with no pharmacy experience, however, grades do matter. We understand the challenge of working full time as a pharmacy technician and taking classes at the same time, but grades do matter. We understand that grit and passion to become a pharmacist is important, but grades do matter.
This is a short summary of how I explain the importance of grades to students who have a low GPA. First, at the end of the day, the purpose of pharmacy school is so that students can gain the expert level of knowledge needed to keep patients safe as a pharmacist. Second, in order to have a good chance of making it through pharmacy school and gaining that expert level of knowledge, they need to enter with a sufficient level of knowledge from their undergraduate courses so that they will be able to learn and pass the more difficult pharmacy courses. Third, the applicant's undergrad GPA gives schools an indication of their current level of knowledge and their potential to successfully get through pharmacy school. Finally, the one thing worse than not getting into pharmacy school this year would be getting in and then failing out during the first semester or first year.
So, getting back to the point of this article, what you can do to help your technician get into pharmacy school is to stress the importance of studying and getting good grades in school. While a 3.5 GPA or higher would be best, the technician at least should be shooting for a 3.0 cumulative GPA. If you really want to mentor your technician and help him or her get into pharmacy school, you can't shy away from discussing grades. And if the tech really wants your help, she should be willing to share with you the unofficial copies of her transcripts after each semester or quarter, because having her spend 5-to-6 years of her life taking courses part-time, only to apply with a very low GPA and get denied, does not help her or the pharmacy profession.
---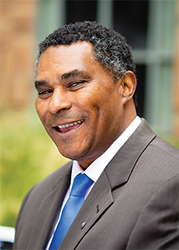 Lawrence "L.B." Brown is associate dean of student affairs and professor of pharmacoeconomics and health policy at Chapman University School of Pharmacy.