Technology companies help boost bottom line, improve patient experience
Pharmacy technology companies continue to step up to the plate, churning out innovative products and services that play critical roles in enhancing pharmacy workflow to help increase efficiency and productivity. Doing so, these companies' solutions can go a long way in boosting a pharmacy's bottom line and improving patients' health.
This month, Drug Store News is highlighting the latest from some of the leading automation and technology providers in the industry.
Amplicare
New York-based Amplicare is all about improving the patient experience by making pharmacists' lives easier behind the counter.
"Technology can help to streamline the entire pharmacy workflow, which gives pharmacists more time to act on patient opportunities or to offer consultations. Simplifying the pharmacy workflow is one of the main benefits the Amplicare platform offers as a whole," Amplicare CEO Matt Johnson said.
To help pharmacists improve the patient experience in the area of Medicare plan comparisons, Amplicare recently released two new features on its platform. One of these features is dubbed Doctor Lookup. "We make it seamless and automatic to identify whether a patient's physicians are in network with their Medicare Advantage plan options," Johnson said.
Medicare Advantage plans are becoming more popular. In fact, Johnson said that one-third (34%) of all Medicare beneficiaries are enrolled in Medicare Advantage plans this year, and the Congressional Budget Office expects that number to rise to 47% by 2029.
"Given that doctor networks for Medicare Advantage plans are more limited than original Medicare, Doctor Lookup will be particularly useful for pharmacists as they help patients navigate the plan selection process," he said. "We've also added a Medigap plan comparison capability to help patients easily enroll in a Medigap plan for supplemental insurance."
Both of these new features also will be available in the Amplicare Patient Engagement Portal. The Centers for Medicare and Medicaid Services-approved portal provides patients with the opportunity to compare and select Medicare plans that are in network with their current pharmacy from their home.
Johnson said the portal enables pharmacies to help a larger number of patients. Patients get access to the portal through their pharmacies with their maintenance medications automatically prepopulated, which he said can save time, reduce frustration and prevent errors from manual entry of drugs and dosages.
"It creates a seamless experience for patients because it provides all the information — medications, available plans, estimated co-pays — online, so they can take time to consider their options at their own pace. Patients can consult with loved ones and be confident they are making the right choice when they select a Medicare or Medigap plan," Johnson said.
Also in the works is a means for grocery stores to have their dietitians suggest meal regimens tailored to a patient's chronic disease states or drug-induced nutrient depletion. "Our aim is to help the pharmacy and grocery divisions within supermarket chains work collaboratively on the shared goals of increasing revenue and improving the well-being of their customers," Johnson said.
Bavis Drive-Thru
Maineville, Ohio-based Bavis Drive-Thru offers technology engineered specifically for pharmacy drive-through. Unlike pneumatic tube systems, the company's Captive Carrier TransTrax is a positive-drive remote delivery system that offers audio and video solutions. The idea is to bring the pharmacist and patient closer together via clear communication, while enabling the delivery of large prescriptions and payment processing.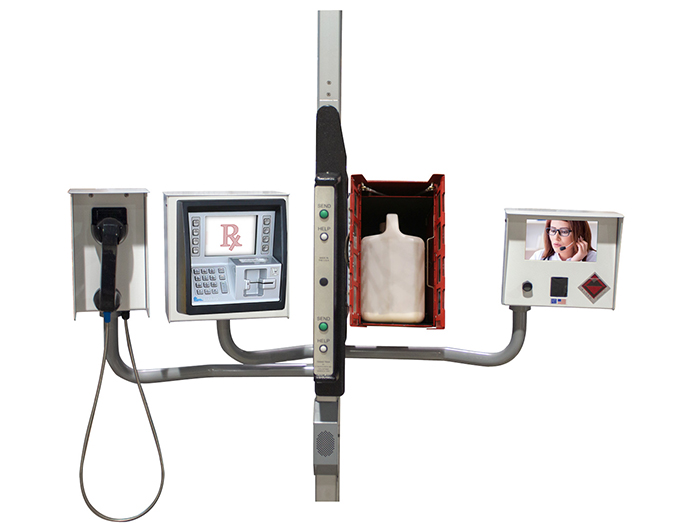 "Pharmacists understand patients' medical conditions and ailments. With our reliable technology, the drive-through offers pharmacies an easy and convenient way for both patients and pharmacists to interact, communicate and solve problems," president William Sieber said. "With the wrong technology, the opportunity to provide care can become an aggravating story that patients will be quick to share. It is vitally important that pharmacists embrace and incorporate new technology that is specifically designed for the pharmacy drive-thru industry."
Sieber also said, "We know that capability and reliability at the drive-through directly translate to time and cost — and, vitally, patient satisfaction. These concerns were the impetus for the creation of the Captive Carrier TransTrax. Pharmacies that are looking to prosper should incorporate new technology that will make drive-through service smooth and reliable."
En-Vision America
Patient safety and accessibility are the focuses that Jenna Reed, marketing coordinator at Palmetto, Fla.-based En-Vision, said are at the center of the company's technology and product offerings.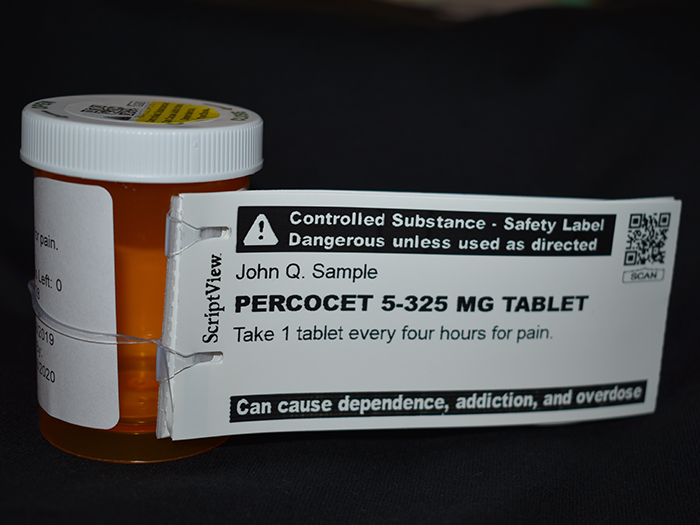 "Medication adherence is such a hot topic right now, but imagine if patients cannot read their medication bottles because they are visually impaired or print impaired. Visually impaired customers have told me that they have placed their medications in a tool box and memorized which pills are in which drawers in an effort to take the correct medications at the correct time," she said. "Pharmacists can help ensure patients' safety by providing accessible labels, including ScripTalk talking labels, ScriptView large print labels and braille labels."
Reed also said the company is partnering with pharmacists to provide dual-language labels, crucial for the safety of patients who aren't fluent in English, in up to 25 languages. "This way patients can read all their important medication information in the language that they are most comfortable with, helping to ensure their safety," she said.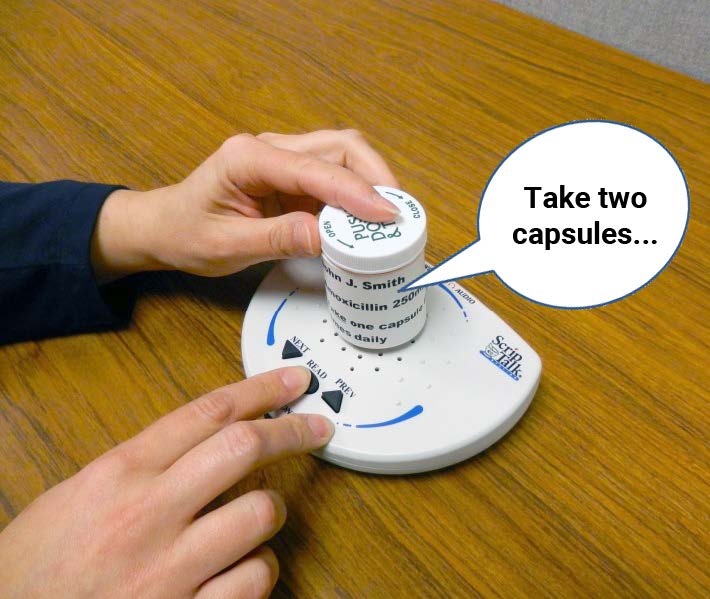 En-Vision America's Controlled Substance Safety Labels help to combat the risks involved with taking such controlled medications as opioids. "Pharmacists are going the extra mile to drive home the risks involved with Schedule II medications. This label highlights warnings and even includes a QR code to a safety video, which outlines many key things patients should keep in mind when taking these medications. A simple scan with their phone, and it's like the pharmacist or doctor is right there with them going over the risks," she said.
With ScripTalk, pharmacists place an RFID tag on the bottom of the bottle. "We send the patient a ScripTalk Station, which they can place the bottles on and it will pick up all the information, such as dosage, warnings, prescribing doctor, etc.," Reed said, also noting that the company loans the station to the patient until they no longer need it.
The company's ScriptView offering enables pharmacists to print labels in a booklet-style format. It includes all pertinent prescription data in large print. "The booklet is attached to the bottle, so that it will not get lost or misplaced," Reed said.
FlavoRx and Fillmaster Systems
About a decade ago, custom medication flavoring with FlavoRx just was making its way into retail pharmacies. Pharmacists had to follow recipes from a 3 inch thick printed book and count drops from a dropper, sometimes 100 or more at a time.
Fillmaster Auto, a product of Columbia, Md.-based sister companies FlavoRx and Fillmaster Systems, seamlessly has integrated the practice of custom-flavoring medications into pharmacy workflow so it is not a burden on the pharmacy team.