A 'Path to the Future:' Rite Aid eyes the horizon as it moves forward
Get great content like this right in your inbox.
Subscribe
As the company begins a new era, there's no doubt that Camp Hill, Pa.-based Rite Aid has seen its share of peaks and valleys over the past several years.
Early in the decade, the nation's third-largest drug store chain engineered a massive turnaround driven by its Wellness+ Rewards loyalty program, expanded clinical pharmacy services and the innovative Wellness store format. By 2015, Rite Aid's strong performance attracted a $9-per-share offer from fellow drug store chain Walgreens Boots Alliance to create a global leader in health and wellness.
After an extended regulatory review process, the proposed merger was terminated, and Rite Aid pivoted by selling more than 1,900 stores to Walgreens to improve its balance sheet and create a smaller, more profitable network of stores. Then, after the company reached a deal to merge with Albertsons and create a leading food, health-and-wellness enterprise, the transaction did not gain the widespread support it needed from Rite Aid shareholders, who wanted to see the company move forward as a standalone entity.
That's all yesterday's news, according to the people who run the 57-year-old company, which registered $21.6 billion in annual sales in its latest fiscal year across its remaining 2,469 stores located in Michigan, Ohio, the northeastern quadrant of the country, and along the West Coast, especially California, where it operates 541 units.
These officials, including CEO John Standley and COO Bryan Everett, said that the company has been reenergized by the prospect of turning its complete attention toward driving innovation, delivering new and unique customer experiences, and, ultimately, growing its business.
[caption id="attachment_609800" align="alignleft" width="300"]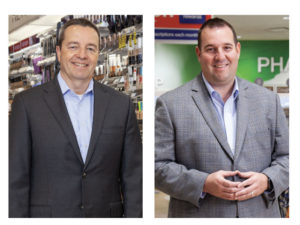 Rite Aid CEO John Standley and COO Bryan Everett[/caption]
"Yes, we are a smaller company than we were just a few years ago," said Standley, a two-decade veteran of the company who plans to leave Rite Aid when the company's board of directors names a new CEO. "But, we also look at ourselves as a more flexible and nimble company that can quickly and easily get the things done that can put us on the right track."
Everett, a four-year Rite Aid veteran, said "We are very excited about the opportunities in front of us. We intend to move fast and pivot quickly on the strategies needed to stand out with consumers, as well as maintaining the trust and support of our associates and our supplier partners.
We also know that this is not going to be an easy path. We have to continue to navigate complicated industry dynamics and appeal to a consumer who has higher expectations today than ever before. We know we can do it, but we also know that we must be more flexible and nimble."
Bold words, especially as retail goes through its most tumultuous period perhaps ever, and with direct competitors like CVS Health and Walgreens, not to mention Walmart and Target, spending big money on their own new strategies and acquisitions — all designed to make them magnet retailers for a new generation of shoppers.
Yet, there is no fear at Rite Aid. To the contrary, one can feel a change in attitude and a burning desire to quickly get going with
new strategies that will lead the company forward
. Also, leadership is confident that it is on the right path and it is trying very hard to get that message out to the entire team, whether at the Camp Hill headquarters or at the stores.
"First, the leadership team has to believe in what the company is capable of, and then we have to communicate it to the rest of the team," Everett said. "My goal is to create a sense of confidence in our team. We want to create the vision, belief and urgency that, together, we will take Rite Aid into the future."
So what is the plan?
For the past several months, the Rite Aid team has been analyzing all aspects of its business and developing its go-forward "Path to the Future" strategy that clearly outlines its plans for long-term sustainable growth.
Through this process, Rite Aid has identified three top priorities for building its future business, with the first being to more clearly align its unique healthcare assets, including Rite Aid pharmacists, coaching and analytics from Health Dialog, its RediClinic locations, and the pharmacy benefits and services offered by EnvisionRxOptions, to help payers deliver a higher level of care to patients.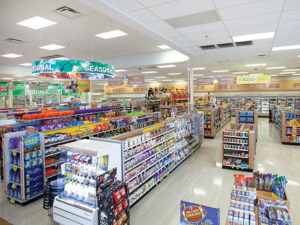 Second, the company is reimagining its front-end business to offer the right selection of products and services to meet the needs of its target consumers. And finally, the team will continue focusing on fundamentally transforming processes and procedures to ensure strong cost discipline and achieve peak operational efficiency.
The key, both Standley and Everett said, is building momentum and making sure everyone involved — from consumers to suppliers to Rite Aid's staff at headquarters and the store level — see what is happening.
According to Everett, three factors will make the difference in executing its "Path to the Future" strategy. The first is building upon the foundation that currently exists at the company, including the chain's strong brand recognition and trust with consumers, who are purchasing about 214 million scripts a year through the chain's pharmacies, and the chain's 6,300 pharmacists, who Everett called "our not so secret, secret weapons." Also, he is fast to rattle off other impressive statistics about the chain, including the fact that there are 13 million active Wellness+ Rewards members, that the pharmacy administered a record number of immunizations over the last year, that an impressive 72% of Rite Aid stores already have been converted to the Wellness format, and that same-store prescription count has grown for three consecutive quarters.
"Yes, there is a bit of momentum building right now," Everett said. "And, that momentum is very important because it demonstrates that we can do this; that as a team we can grow, we can pay down our debt and we can start implementing programs that will help us continue to grow well into the future."
Second, Everett said, the company will look to grow. Interestingly, that growth is not expected to come through new store development, but by expanding front-end volume with new merchandising programs and building pharmacy sales. "We are developing a number of concepts to build our front-end business, and we are leveraging and expanding our clinical services to gain more access to more prescription plans," he said. "Right now, we are not adding stores, we want to add volume into our existing stores."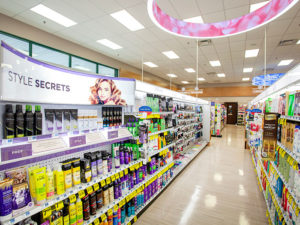 Third, Everett said the company will accelerate critical efforts to
drive innovation
, including strengthening its omnichannel presence. Many consumers, he said, want a personalized shopping experience, and Rite Aid's must be more proactive with e-commerce and such out-of-the-box in-store experiences as mobile and self-checkout, digital shelf displays and even cashier-less stores.
Standley takes the concept of the future and moves a bit further. He said that pharmacy growth will also come from making the experience more fulfilling fo