Instant Effects, Attitude win ECRM Beauty Buyers' Choice Awards
Get great content like this right in your inbox.
Subscribe
Instant Effects won the Drug Store News/ECRM Buyers' Choice Award for its PM Recovery Night Cream during ECRM's Skin, Bath, Cosmetics & Natural Beauty Program held last month in Palm Desert, Calif. Attitude was the finalist for Bulk to Go! line of refill boxes for its products.
The two companies were selected from dozens of entries in the award program, samples of which were displayed in the ECRM hospitality area during the program's meetings. Buyers cast their votes based on product innovation and packaging.
"Both of these companies epitomize product innovation, and have multiple Buyers Choice Award wins as a result," Tony Giovanini, SVP of Health & Beauty Care for ECRM said. "Instant Effects had tremendous success at ECRM's Euro Beauty session earlier this year – securing just under $1 million in orders already less than five months following the session. This is Attitude's third win, this time for its innovation on the sustainability front with its Bulk to Go boxes."
Instant Effects is an independent British beauty brand that develops clinically proven formulas for visible results in minutes. Its PM Recovery Night Cream was created to deliver all the benefits of a facial while the user sleeps. Charged with ATP and patented OX2 oxygen transfer technology, it's designed to work in synergy with the skin's own metabolism to renew skin cells and improves the skin wall barrier, so users wake up with a smoother, brighter and deeply hydrated complexion.
According to the company, independent clinical trials show that the cream makes the skin appear 10 years younger, with a 99 percent improvement in skin firmness, radiance that rivals laser treatments, and fine lines and wrinkles reduced by 36 percent in just four weeks. All formulas are paraben-free and vegan-friendly.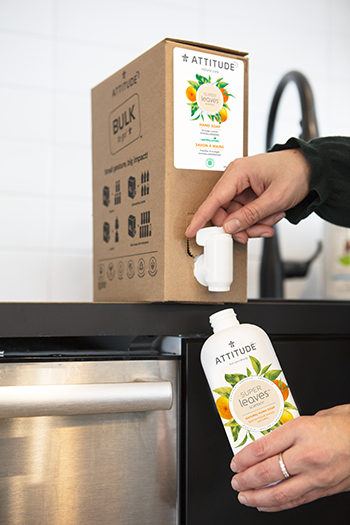 Montreal-based Attitude develops natural personal care and household products dedicated to promoting healthy living. Crafted with natural, hypoallergenic and Environmental Working Group (EWG)-verified ingredients, the entire line of Attitude products (Sensitive Skin, Sun care, Bath & Body, Baby & Kids, Household and Pet care) adhere to the highest quality and eco-responsible standards: they are 100 percent vegan, cruelty-free, and certified by PETA (People for the Ethical Treatment of Animals) and by ECOLOGO.
Attitude's latest initiative was launched to reduce plastic waste and single-use bottles. The 4-liter eco-friendly Bulk to Go! packaging allows consumers to refill and reuse their personal and household product bottles in the comfort of their own home. Certified by the Forest Stewardship Council and lined with a BPA-free bag, the Bulk to Go cardboard box is 100 percent recyclable. In addition, it can replace up to eight standard size bottles.