Completely Bare, The Honey Pot win DSN/ECRM Buyers' Choice Awards
Get great content like this right in your inbox.
Subscribe
Completely Bare won the
Drug Store News
/ECRM Buyers Choice Award for its go fuzz FREE Facial Moisturizer and Hair Inhibitor during ECRM's Personal Care, Grooming, Oral and Travel/Trial session held in Phoenix in July. The Honey Pot was the finalist for its Normal feminine wash and herbal menstrual pads.
The two companies were selected from dozens of entries in the award program, samples of which were displayed in the ECRM hospitality area during the program's meetings. Buyers cast their votes based on product innovation and packaging.
"One common thread among both winners is that they have products that aim to deliver efficacy without harming the body or the environment," said Tony Giovanini, senior vice president of health & beauty care for ECRM. "Completely Bare provides a cruelty-free way of removing hair, and The Honey Pot Company uses natural ingredients for feminine care."
Completely Bare is a woman-owned, New York-based hair removal brand that seeks to provide quality products at affordable prices. In addition to offering products that remove hair, it specializes in post-treatment products that are designed to help keep skin healthy, sexy, and smooth. The company is PETA-certified cruelty-free and all of its products are formulated without parabens or phthalates.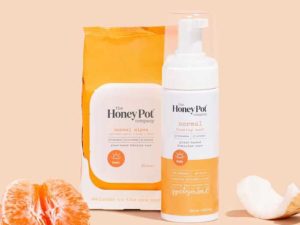 The Honey Pot is a plant-based feminine care company that company officials say has a mission to give girls and women cleaner, safer options for their feminine care and hygiene. It sells healthy feminine washes, wipes, herbal menstrual pads and liners, and clean cotton tampons that are made with natural herbs and botanicals to help maintain a woman's pH balance without the addition of harsh chemicals.
The company's Normal feminine wash and herbal menstrual pads are the first plant-powered washes and pads on the market, according to the company. The wash is formulated with microbial fighting colloidal silver as well as herbs and botanicals including coconut oil, apple cider vinegar, and grapefruit seed extract. These ingredients are anti-inflammatory, anti-bacterial and anti-fungal and help keep users fresh and clean without disrupting the delicate pH balance. Its herbal menstrual pads are infused with herbs such as rose, lavender, aloe and mint to help reduce cramps, minimize odor and soothe and calm irritation.